JUL, 2023
SUSTAINABLE CLOTHING AND YOU: LOVE AT FIRST SIGHT?
A new piece of clothing is like a new love. You see it shining in the corner of your eye, your heart rate soars and you feel an irresistible attraction. The butterflies in your stomach confirm the feeling: this is it! But... do you sometimes wonder in what conditions those sky-blue pants were made? Or what impact your purchase has on the world? Not to worry: those who choose sustainable clothing can rely on the best decisions in terms of fair production and sustainability. Because sustainable clothing is produced with a heart for people and the planet. And with love, lots of love.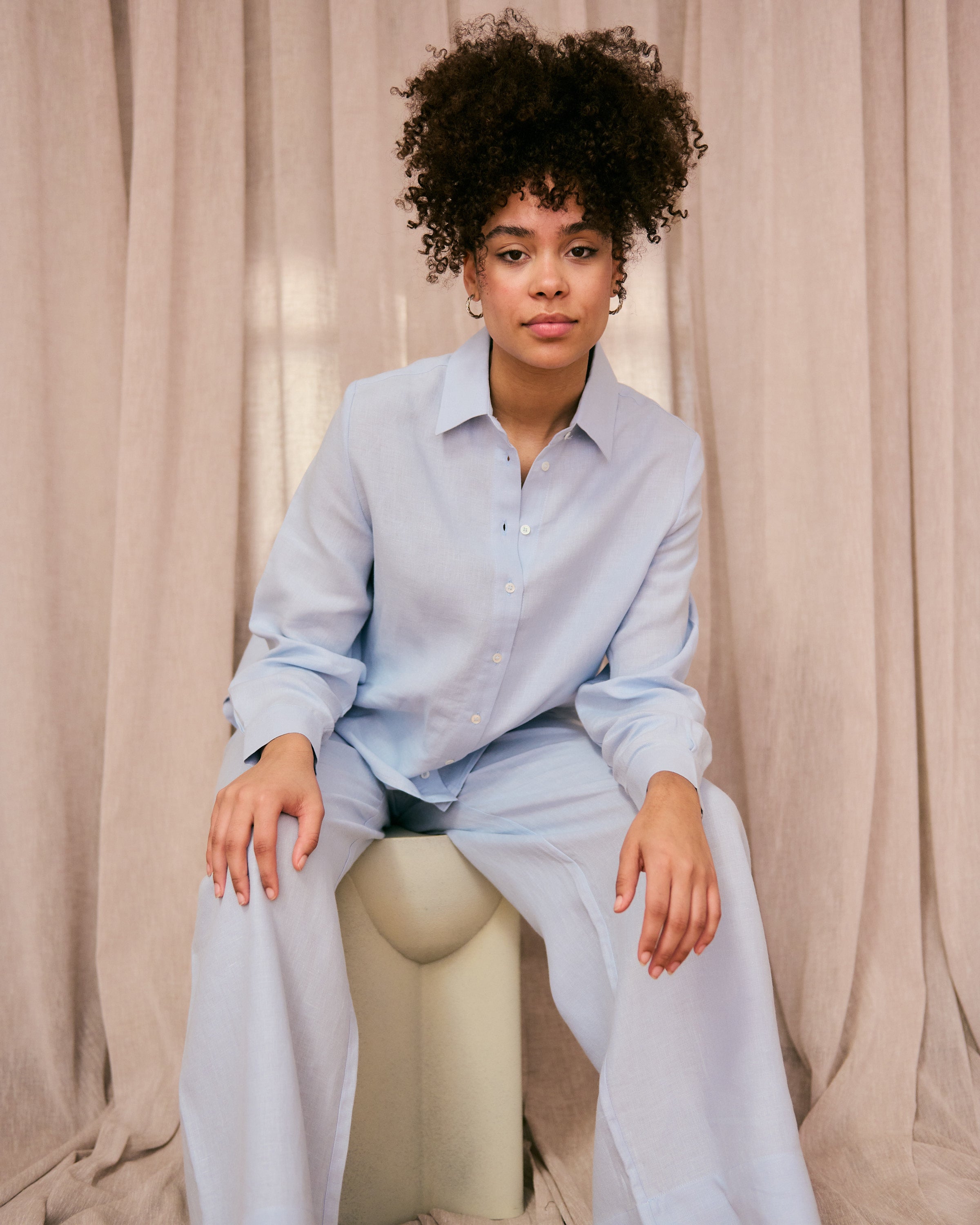 FAST FASHION: LOVE IS BLIND
We sometimes don't want to admit it, but love also makes ... blind. Meet fast fashion: because clothes are produced at an incredibly fast pace, unfortunately this does not always happen in a fair and ethical way. The lower the production price, the higher the profit. Who ends up paying a high price for this? The environment and textile workers. Workers are under high work pressure. Moreover, a lot of toxic substances end up in nature and disposable clothing quickly ends up on the rubbish heap. A heartbreaking observation.
SLOW FASHION: LOVE FOR PEOPLE AND PLANET
Fortunately, things can be done differently. The alternative? Slow fashion, where respect for people and planet is key. Does this mean that slow fashion is 100% sustainable? The answer is obvious: no. Production still requires water, energy and materials.

But with slow fashion, you can trust that the impact on the environment and people is as small as possible. Behind these brands are dedicated people with a loving mission. With heart and soul, they take the production process firmly in their hands. So you can be sure: everyone involved in the manufacturing of your sky blue trousers receives a fair wage.

SAY YES TO SMALL-SCALE PRODUCTION
Mana loa does not opt for mass production, but manufactures in small quantities. Moreover, founder Lyne chooses to work only with local European workshops. So you can be sure of a smaller ecological footprint. So no trip around the world, but a mini-trip in Europe.
Usually, you pay a bit more for slow fashion than you would in a regular shop. So now you know why: you pay a fair price for each process - from source to maker and even wearer.
TO BE LOVED FOR A LONG TIME
Sustainable clothing is not only to love, but also to keep for a long time. Thanks to the high quality, these clothes made of natural materials will last for years. Not wearing the garment any more? Give it a second (love) life and make someone else happy with it. Moreover, each item is made up of a single type of raw material, making it perfectly recyclable.
SUSTAINABLE CLOTHING KNOWS NO TIME
A new collection every spring, summer, autumn and winter? Mana loa decides not to join society where everything goes fast-fast. The sustainable clothing brand introduces two collections every year, with clothing available for more than one season. Thanks to the timeless items, you invest in fashion to mix and match creating your favourite style.
NATURAL LOVE PATH
Mana Loa resolutely walks the natural love path. All clothes are made of 100% natural materials that feel good and are good to nature. From needle to thread, the jumpers, dresses, skirts and trousers are woven from ecological fabrics such as organic cotton and linen.
MANA LOA: CLOTHING MADE FROM NATURAL MATERIALS
Sustainable clothing and fashion-conscious ladies: a match made in heaven. Mana loa is certain of that. When you look in the mirror with your new sky-blue trousers, you know: these are made with respect for people and nature. And with love, lots of love.